It may take you about 10 minutes to read and consider this document................
If you are new to the Business Center concept those 10 minutes spent should be repaid 10 times over - probably more.
If you have previous experience of Business Centers it will inform you of some of the newer features of our Business Center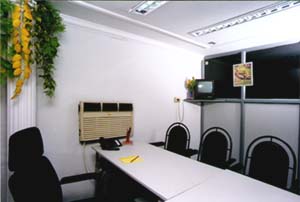 The Concept
So, you are considering a Business Center.(Ready to use Offices )
Well, you would be in good company. Recent independent research by CIPS (The Charted Institute of Purchasing and Supply) concludes that it is more economic to use a fully serviced Business Center to house up to 60 staff for at least 3 years, compared with a lease. A copy of the CIPS Report is available on request.
If you believe that your company is unlikely to stay the same size over the next three years then the case for using a Business Center is overwhelming. Because...........
* You only pay for the space you need.
* You only pay for the services you use.
* You can expand or contract keeping the same address and phone numbers, but avoiding relocation costs
* All facilities are managed for you, allowing a clear focus on your business without distraction.
* You benefit from "large company" services and technology, shared by all Licensees.
* All property depreciation and repair costs are carried by the Business Centre, unlike leases.
* Your standardised Licence commitment is only 12 months, or less by arrangement.
* All fixed costs are covered by one monthly payment.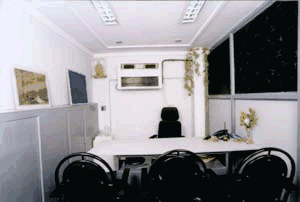 Location - Usually the first consideration?
Always important but we osition it second because if you cannot get the correct level of service you need, it doesn't matter how conveniently situated a Centre might be. However the usual considerations of proximity to the Motorway network, rail station, restaurants, buses and airports should always be carefully considered.
As far as Parshv Business Center is concerned it is situated in the heart of Bombay city [Marol Naka, Andheri -East] proximity to all transport systems
Image - How important is it to your company?
Will many suppliers or customers be visiting you ? Are you concerned about how they will be greeted, seated and then perceive your office environment ? Do you think that using a dedicated meeting room is more impressive than a meeting held in your office ?
Parshv Business Center strives to provide & maintain all the above services.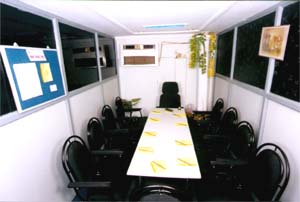 Centre Size - Is it Relevant?
The larger the Business Center the more likely it is to have up to date equipment and good staffing levels. The greater the number of people sharing and using facilities the more economic it is to keep those facilities, which encourages friendships and a beneficial community atmosphere.
Parshv Business Center has 33 Offices, BIGGEST BUSINESS Center In MUMBAI . Significant inter-trading takes place .
Office Space - How much do you need?
<![if !vml]>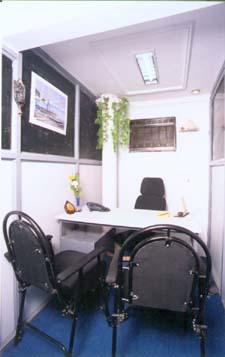 <![endif]>The No.1 benefit of a Business Center is that you License only the space you actually need, rather than having to allow for expansion or continually paying for meeting room space that you only use once or twice a week. It is personal choice as to how "cosy" you want to be. Some Licensees are content to work with 50 square feet per person whilst others have so much "live" filing or special equipment that they need 150 square feet per person. The average space requirement tends to be between 70 and 150 square feet.
If you need to store a large quantity of marketing literature or archive occasionally used documents then check that a Center can offer storage at a lower cost than prime office space.
We use a very high quality partitioning system which allows us to configure offices to suit specific needs with reasonable ease and sensible costs.
If your company's space requirements change we give preference to our existing Licensees in offering larger or smaller Suites as required. We have archive cupboards and basement storage space at attractive rates.
At Parshv Business Center, our Business Center . Mr Nikhil Shah-9967681111, will be pleased to provide a quotation after discussing your exact requirements during your visit.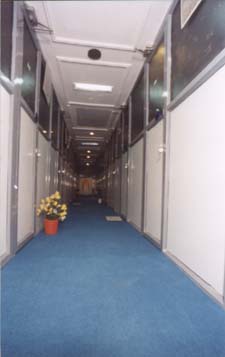 Technology
Up to date communications technology is the most important feature to look for in a quality Business Center. A modern "Switch" uses ISDN channels which allow multiple calls to be received against one phone number and for an external number (DDI) to be issued for each extension user. Using ISDN virtually eliminates the risk of your caller getting the engaged tone.
The growing use of e.mail, file transfer, Internet access benefit significantly from a fast ISDN connection to your desktop computer. So make sure that any prospective Centre can provide this facility economically, if these activities are important to your business.
Parshv Business Centre has invested Lacs of Rupees in an advanced Technology
Services - Important Issues to Check
and hosting your visitors. It is vital that they are courteous, personable and helpful. It is worth spending 5 minutes in the Reception area of any prospective Center just observing how calls and visitors are taken care of.
At Parshv Business Center we are proud of our staff and invite you to meet them and "observe".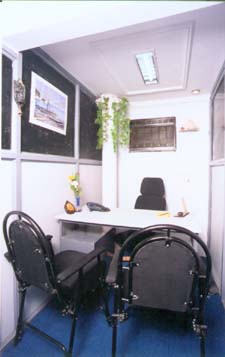 Parshv Business Center Reception staff will send faxes for you and advise when any incoming faxes are received. There is no restriction on you using your own equipment.
E.Mail - messages checked every hour
Length of Stay - How long should you plan on staying in a Business Centre?
Two Answers
The obvious business answer is "as long as it is economically justified" which must be right for the majority of people. However for the fortunate minority another answer could be "as long as it continues to improve the quality of my working life" because there can be no doubt that a good Business Centre will relieve you of stressful building related financial risk, distraction leading to irritation or loss of business and the significant amount of admin and trivia involved in keeping a building and its associated technology up to date and operation.
Please visit and judge for yourself.
Prepared by Nikhil Shah-9967681111
: Parshv Business Center
our Sister consern LOTUS CABLES INDIA ( Mfg of Electrical Wires & Cables)
Beaters Music Group ( Contact for Any Musical Shows)